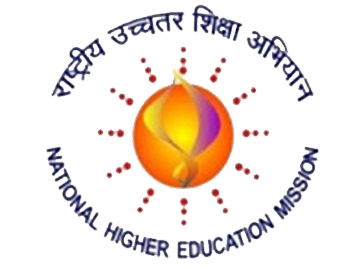 RUSA is a centrally sponsored scheme of Ministry of Human Resource Development, launched on 3rd Oct 2013 in the country, aims to ensure holistic planning at the State level with a focus to address issues of equity, access and quality in higher education and providing strategic funding to the State higher education institutions. The objective of the scheme is to improve overall quality of the State institutions ; to usher transformative reforms in the State higher education system and to create a better enabling atmosphere in the educational institutions for carrying out quality research and innovations ; to provide greater autonomy to universities as well as colleges and have a focus on equity based development and improvement in teaching, learning ,quality and research and rectify the weakness in the higher education system with the focus to raise the target group enrolment ratio in higher educational institutions in the State.
The implementation of RUSA in Jammu and Kashmir started from 2014-15. The scheme is underway through State Project Directorate of RUSA, under the overall guidance and supervision of State Higher Education Council –which is responsible for planned and coordinated development of Higher education in the State -- and Department Of Higher Education, funded by MHRD/State through Higher Education Department.

The State Government conveyed its willingness to participate in the scheme on 25th of Oct. 2013.

The State government constituted State Higher Education Council (SHEC) vide Government order number 1753-GAD of 2013 dated 27-12-2013, the Hon'ble Chief Minister is its chairman and Hon'ble Minister for Higher Education as vice chairman and chief sectary as member besides other members of the SHEC including the academicians.

The State Project Directorate (Mission Directorate) under RUSA was created by the State cabinet vide decision no 101/08/2014 Dated 11/06/2014 issued under No 304 HE of 2014 dated 13/06/2014 with the creation of 43 posts as man power under RUSA in various categories, out of which 15 posts have been filled up so far by the Government.

The State Cabinet also approved creation of Technical Support Group (TSG) comprising of 6 posts of 2 categories viz Programmer (02 posts) & Data operators (04 posts), which has been established.

The SHEC projected State Higher Education Plan (SHEP) for an amount of Rs 958.81 lacs under different components and then prioritized the plan to the extent of Rs 784.81 crore for all components. The Project Approval Board (PAB), in its 3rd meeting held on 13th May 2014, approved an allocation of Rs 269.01 crore for six components as Total Outlay for three years of 12th five year plan. Rs 118.14 crores have been approved for the year 2014-15 under six components of the scheme.
E-Mail Address:
Office E-mail : rusajammu[AT]gmail[DOT]com
Contact Numbers:
Jammu Office : 0191-2490729,01912490861
Srinagar Office : 0194-2432241
Under RUSA, the Ministry of Human Resource Development (MHRD) approved an allocation of Rs 269.01 crore for six components as Total outlay for last three years of 12th five year plan on the basis of 90:10 sharing pattern. An amount of Rs 124.839 crore have been released by MHRD by the end of March, 2017 as central share. The state Govt. released an amount of Rs 14.214 crore as matching state share thereby making the total availability of Rs 139.053 crore. This also includes an Rs 1.274 crore released recently by MHRD and is yet to be credited into SHEC account. Rs 115.60 crore have been utilized on various components ending March, 2017. (Component wise status of expenditure incurred enclosed herewith as Annexure 'A').
Creation of Universities by conversion of Colleges in Cluster:

Two universities approved one each at Kashmir and Jammu by way of pooling the resources of five existing colleges at each place for Rs 110.00 crore i.e, 55.00 crore for each University. Under this component Rs 82.54 crore (Rs 74.26 crore as Central Share and Rs 8.28 crore as State Share) have been released and Rs 65.27 crore have been utilized by the end of March, 2017. Srinagar and Jammu Cluster Universities Act has passed and has been published in the Govt. Gazette on 8th July, 2016. 124 posts (Gazetted/Non-Gazetted) have been created vide cabinet decision followed by Govt. Order NO. 254-HE of 2016 dated 04-08-2016. Besides Vice Chancellors & Registrars of both the Cluster Universities along with other staff have been appointed. Both the Cluster Universities were inaugurated (digitally) by Hon'ble Union Minister for HRD, GoI on 17/04/2017.

Infrastructure Grants to Universities:

2 state universities have been approved for new construction/up gradation of physical infrastructure, besides procurements of computers/Library books/Sports material with an outlay of Rs 20.00 crore for each university. An amount of Rs 31.00 crore which includes Rs 4.00 crore as state share has been made available of which Rs 31.00 crore has been spent by end of March, 2017.

Up gradation of existing Degree colleges to Model colleges:

Under this component 3 degree colleges have been approved against the earmarked amount of Rs 12.00 crore. An amount of Rs 1.48 crore has been released and utilized in full by end of March, 2017 and the civil works in these colleges are in progress.

New Colleges (Professional):

Two new colleges namely "Engineering College at Kathua, Jammu and Safapora Ganderbal, Kashmir" have been approved at an outlay of Rs 52.00 crore i.e, Rs 26.00 crore for each college. An amount of Rs 11.70 crore as central share and Rs 1.17 crore as state share has been released by MHRD/State Govt. Rs 12.87 crore have been utilized by end of March, 2017. Moreover, the Ministry has sanctioned an amount of Rs 1.274 crore as 2nd Installment (yet to be credited into SHEC

Infrastructure Grants to Colleges:

22 colleges have been approved at an outlay of Rs 43.54 crore for construction of new toilet block, canteen cafeteria and library/up gradation of computer centre/procurement of computers/library books/sports material etc. An amount of Rs 5.13 crore including matching state share of Rs 0.234 crore have been released and Rs 4.34 crore have been utilized by the end of March, 2017.

Vocationalization:

9 different vocational courses, which include Hospitality & Catering, Food Processing, Renewable Energy, Textiles, Dying and Designing, Green House Technology etc were identified for introducing them in 20 different colleges of the state. The Department has recently signed an MoU with National Skill Development Corporation (NSDC) for implementation of this initiative. An outlay of Rs 7.47 crore has been approved against which Rs 0.76 crore as central share has been received.